As part of the Center for Global Security & Cooperation, GCBS is dedicated to exceptional service in the national interest, participating in global technical engagements on behalf of the U.S. Government, non-governmental organizations, and international health and security entities. We focus on solving technical problems, pursuing cooperative programmatic approaches with our partners, and achieving internationally sustainable results.
---
Algeria virtual COVID-19 training for first responders and law enforcement
This training is designed to provide participants with foundational knowledge for responding to emergencies during the COVID-19 pandemic. This training will assist Algerian first responder and law enforcement agencies in developing safe response protocols that limit the risk of infection for members of the workforce.
---
Journal of Chemical Education
In collaboration with the American Chemical Society (ACS) Journal of Chemical Education, Dr. Andrew W. Nelson from the GCBS Group and Dr. Peter Hotchkiss (formerly GCBS, currently Organisation for the Prohibition of Chemical Weapons (OPCW) served as Guest Editors on a Special Issue in Chemical Security. This multiyear effort was intended to serve as a global forum and sounding board for ideas, lessons, and approaches to chemical security education.
Within the Special Issue, readers will find articles on history, ethics, policy, attitudes and practices, laboratory experiments, mitigation approaches, and emerging issues. The following is an excerpt from the editorial "Introducing the Journal of Chemical Education's Special Issue on Chemical Security." DOI: 10.1021/acs.jchemed.0c00495
---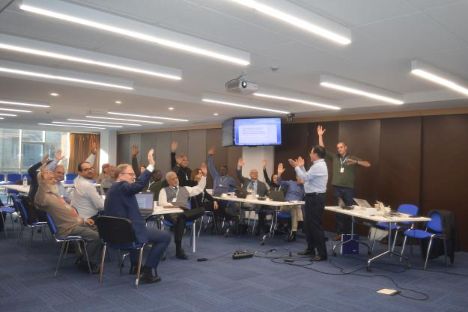 Chemical Safety and Security Guidelines for Small-to-Medium sized Enterprises (SMEs)
In early 2019, the OPCW held a 3-day forum to identify tools for safety and security for the chemical community. Over 20 international experts came together in The Hague, where they identified numerous tools and resources for available teaching and research laboratories and large industries. Through plenary discussions and small groups, the international panel of experts identified that there is a significant gap in resources tailored towards SMEs. Collectively the group determined to draft non-binding guidelines for chemical safety and security designed specifically for SMEs.
---
Self-paced chemical inventory management and CMS© software training
Using the CGSC Learning Portal powered by MATRIX LMS, we have remotely trained over 100 scientists from Jordan, Mali, Malaysia, and Yemen. This dynamic asynchronous online learning is designed to build chemical inventory management capacity at academic institutions. The training program includes self-paced eLearning modules, homework, activities, quizzes, question and answer sessions, and feedback surveys. Currently, the course is offered in the English, Arabic, and French languages.